Our eye dropper plastic bottles have good performance all the time, It consists of body, inner plug, outside cover, and body and inner plug are made of LDPE, given LDPE material's features, the body of the eye dropper is translucent, so you can clearly how full it is.the leading manufacturer of custom plastic sports bottles.
The eye dropper plastic bottle is easy to squeezeand refill, the bottle seals well too, there will be no leaking when squeezed.
Request a sample to try it.
Description Of Eye Liquid Dropper
Your Questions, Our Answers.
1. Q: Could this bottle be used to store other liquid besides eye drops?
A: Yes, these bottles are great for essence, solvents, light oil, paint, etc.
2. Q: Are these eye dropper bottles reusable?
A: Of course, you can refill and sterilize them easily.
3. Q: Does this type of bottle have the childproof cap?
A: No, but if you want to purchase dropper bottle with childproof cap, please feel free to reach us, we got them in stock too.
4. Q: If I purchase these eye dropper bottles in a large number, can I get lower price or discount?
A: Absolutely, you could get a lower price and you have 15% discount on your first order, up to $200.
More Choices And Add-value Services For You
Accoring to the answers about applications that I list above, naturally, we have various different capacities of eye liquid dropper will match well with your particularneeds.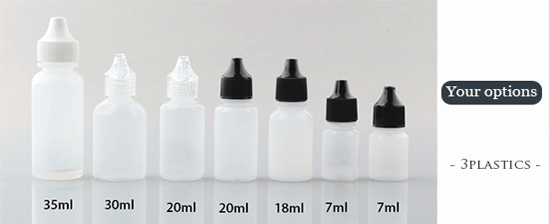 As a profeesional plastic container manufacturer, labeling and printing are totally up to you.
Most importantly, if you alrady had ideas in your mind and wanted to make your own design, just sending us your ideas, blueprint, or sample, our engineers may make it real, give it a try!