Eye dropper plastic bottles are a popular choice for storing and dispensing liquid products. These bottles are made from high-quality plastic materials that make them durable, lightweight, and easy to use. They come in a variety of shapes and sizes to suit different needs, and are often designed with child-resistant caps to ensure safety.
Our eye dropper plastic bottles have good performance all the time, It consists of body, inner plug, outside cover, and body and inner plug are made of LDPE, given LDPE material's features, the body of the eye dropper is translucent, so you can clearly how full it is.the leading manufacturer of custom plastic sports bottles.
The eye dropper plastic bottle is easy to squeeze and refill, the bottle seals well too, there will be no leaking when squeezed.
Description Of Eye Liquid Dropper
Eye dropper bottles are a popular type of packaging for a variety of products. They come in different sizes, with the 1 oz dropper bottle and 2 oz dropper bottle being some of the most common. Many eye dropper bottles are made from amber glass or plastic to protect the contents light damage.
Oil dropper bottles are a popular type of eye dropper bottle used to store and dispense essential oils. These bottles have a precise dropper tip that allows for accurate dispensing of small amounts of liquid.
Empty dropper bottles are also available for purchase, which can be used for DIY projects or for refilling with your favorite liquid products.
Wholesale dropper bottles are available for those who need larger quantities of eye dropper bottles for commercial use. These plastic dropper bottles often come in bulk and may be customizable with labeling and branding options.
Whether you're looking for an eyedropper bottle for personal use or for commercial purposes, there are many options available to suit your needs. Consider factors such size, material, and customization options when selecting an eye dropper bottle for your product or project.
One of the main benefits of eye dropper plastic bottles is their precision. The dropper tip allows for accurate control over the amount of liquid dispensed, making them ideal for products such as essential oils, medicine, and beauty products. The eyedropper bottles are also transparent which makes it easy to monitor the level of liquid inside. Or amber dropper bottles for light-sensitive liquids,
In addition to their practicality, eye dropper plastic bottles can also be customized with branding and labeling to suit a company's unique needs. This makes them an ideal packaging option for small businesses and startups looking to establish their brand identity.
Your Questions, Our Answers.
1. Q: Could this eyedropper bottle be used to store other liquid besides eye drops?
A: Yes, these eyedropper bottless are great for essence, solvents, light oil, paint, etc.
2. Q: Are these eye dropper bottles reusable?
A: Of course, you can refill and sterilize plastic dropper bottles easily.
3. Q: Does this type of bottle with eyedropper have a childproof cap?
A: No, but if you want to purchase dropper bottle with childproof cap, please feel free to reach us, we got them in stock too.
4. Q: If I purchase these eye dropper bottles in a large number, can I get lower price or discount?
A: Absolutely, you could get a lower price and you have 15% discount on your first order, up to $200.
More Choices And Add-value Services of Wholesale Dropper Bottles For You
According to the answers about applications that I list above, naturally, we have various different capacities of eye liquid droppers that will match well with your particular needs, the 1 oz dropper bottles, 2 oz dropper bottle is most common used in the industry.
Choosing the right eye dropper bottle manufacturer is crucial to ensuring that your product is of high quality and meets your needs. If you are looking for a manufacturer for your eye dropper bottles, there are a few key factors to consider.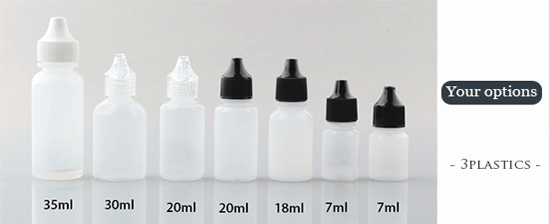 First, consider the material of the bottle. You may want to choose a manufacturer that offers a variety of materials, such as glass or plastic. Glass bottles are typically more durable and can provide a better barrier against light and air, while plastic bottles are lightweight and less breakable.
Next, think about the size and color of the bottle. Depending on the intended use of the dropper bottle, you may require a specific size, such as 1 oz or 2 oz. You may also want to consider the color of the bottle, such as amber dropper bottles for light-sensitive products or clear for visibility.
Another important factor is the type of dropper. Some dropper bottles are designed specifically for oils, while others are suitable for general use. Make sure the manufacturer offers the type of dropper that is suitable for your product.
When choosing an eye dropper bottle manufacturer, it is also important to consider the quality of the product. Look for a manufacturer that uses high-quality materials and has a good reputation in the industry. You may also want to read reviews from other customers to ensure that the manufacturer has a track record of producing quality products.
Consider the quantity of dropper bottles you require as well. Some manufacturers may have minimum order quantities, while others may offer wholesale pricing for larger orders. Be sure to choose a manufacturer that can accommodate the quantity you need.
Lastly, consider customization options such as adding your logo or label to the bottle. Some manufacturers may offer this service, which can be a great way to brand your product and make it stand out.
Using keywords such as "eye dropper bottle," "1 oz dropper bottles," "amber dropper bottles," "oil dropper bottle," "plastic dropper bottles," "eyedropper bottle," "2 oz dropper bottle," "empty dropper bottles," "eyedropper bottles," "wholesale dropper bottles," or "bottle with eyedropper" in your search can help you find potential manufacturers that meet your requirements. Consider these factors carefully when choosing a manufacturer, and you will be well on your way to finding a quality product that meets your needs.
As a professional plastic container manufacturer, labeling and printing are totally up to you.
Most importantly, if you already had ideas in your mind and wanted to make your own design, just send us your ideas, blueprint, or sample, and our engineers may make it real, give it a try!